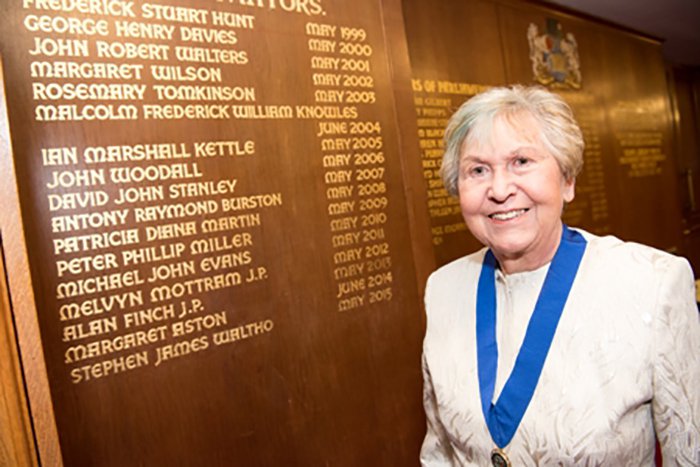 Tributes have been flooding in for former Mayor of Dudley, Cllr. Pat Martin, who passed peacefully away on 29th November.
Cllr Martin served on North Bedfordshire Borough Council from 1974 to 1983 and was Mayor of Kempson in Bedfordshire for two consecutive years. She was also a qualified teacher, serving as deputy headmistress of the English speaking school in Grand Canaria until her retirement to Stourbridge.
In 2000 she was elected to Dudley Council where she served as a councillor representing Amblecote until her retirement in 2015. She was always enthusiastic, compassionate and worked tirelessly for her constituents.
Mrs Martin was elected Mayor of Dudley in 2009/10, having been Deputy Mayor in the previous year. She took to the role of Mayor with dignity, spirit and a sense of fun. Her late husband Bill, for whom Pat cared later in life, enjoyed his role as Mayor's consort and the two were utterly devoted to one another with Bill completely supportive of Pat's political roles.
Pat also served on the council cabinet as the lead member for personnel, legal and property as well as holding numerous other key committee memberships during her period of local government service. Councillor Patrick Harley, leader of Dudley Council said:
"Pat was well liked and well-respected across the whole of the council chamber. She was intelligent, vocal and had a great sense of humour. She'd fight for what she believed in, and you knew she was doing it with honesty, integrity and sprit.
"She was a wonderful local councillor, serving the people of the borough for 15 years. She took naturally to the role of Mayor, knowing the importance of the office but also able to have great fun with it when the occasion arose.
"I am so glad that we were able to recognise her contributions when we made her Honorary Alderman in 2015, something that Pat hadn't expected, but was deeply honoured to receive.
"We were so fortunate to have served with Pat, she was a remarkable woman, morally upright, strong and kind. She will be much missed."
She is survived by her two children from her first marriage, Simon and Lyndsey. Funeral arrangements will be published once details are confirmed.