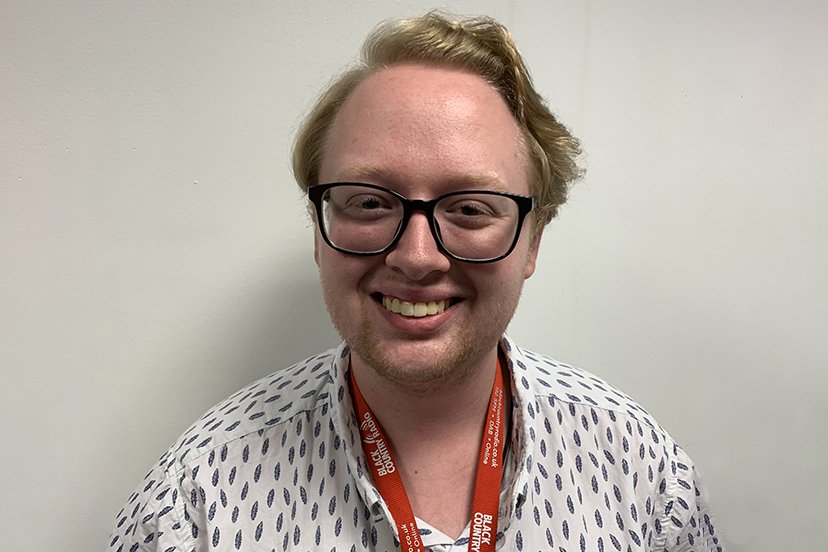 Alex Griffith, Volunteer with Black Country Radio, joint winner of Dudley CVS Covid Young Hero Award 2020.
Two young people, alongside a host of community organisations and individual volunteers, have been recognised for their exemplary work during the pandemic at an awards ceremony which took place last night.
The Dudley CVS Covid Heroes Awards were held to thank and pay tribute to those who have given their time to selflessly help others during the coronavirus pandemic.
The joint young persons award was given to Alex Griffiths and Katie Davies. Katie volunteered with Halesowen Business Improvement District, working hard to support people in Halesowen Town Centre and encouraging shoppers to use local retailers again during lockdown. Alex is a producer and presenter with with Black Country Radio and also worked at Russells Hall Hospital on Covid Wards, providing vital support to seriously ill people, during the height of the pandemic.

The awards, which this year replaced the Dudley CVS Volunteer Awards, were held in partnership with Black Country Radio and broadcast both on air and online for communities to see. Andy Gray, Chief Executive of Dudley CVS said:.
"This years awards needed to recognise and select the outstanding contributions that were made supporting those most vulnerable in challenging times.
"It is truly inspirational to hear how local people have made such a difference to the communities across our Borough during the Covid-19 pandemic"
Black Country Radio were themselves acknowledged by a special award from the board of Dudley CVS, with a thank you for providing 'valuable public information both on air and online, as well as running a Community Hotline which took over 500 calls from the most vulnerable in the Borough'. Other winners of this special award included Dudley Library Staff, Citizen's Advice Dudley, Black Country Foodbank, Saltwells Food Hub, Stourbridge Covid Group, Arise Churches, Hope Church, Just Straight Talk and Dudley Council's "Pleased To Meet You" Helpline.
Individuals were also acknowledged including Chris Szygowski, Kim Humphries of Dark House Food Bank and Councillor Joe Roberts.
A number of other people received individual awards, with the 'Kindness in a Crisis Award' being given to Shona-Rose Glisenan, who stepped up to provide valuable community support in Coseley, with Highly Commended Awards to Zyllah Moranne-Brown from Black Country Radio for managing the station's community response during the height of the pandemic, Esther Olivier who worked with vulnerable people and Lottie Woodward, who provided an online presence and support for those at risk of domestic violence.
The Covid Superstar award was given to Rose Cook Monk and Phil Aliband for their exemplary efforts to supporting vulnerable people and communities during the pandemic. Michelle Smith won the Faith in the Community Award, with Springs Church including Hope House being Highly Commended.
The Covid Community Champion Group went to Sedgley Coronavirus Support, with the Individual Award going to Andrea Childs and Carly Grandini-Williams, who kept everyone spirits high with laughter as well as fundraising for charity.
For the Business with A Big Heart prize, the main Award went to The Dudley Arms public house, with a Highly Commended to Abrar Ahmed of One 4 You Services Ltd. Councillor Nicolas Barlow, cabinet member for health and adult social care at Dudley MBC said:
"We quite simply could not have got through lockdown without the tireless efforts of an army of volunteers who quickly mobilised to help the most vulnerable during lockdown. Delivering free school meals, helping the elderly, you name it, they stepped up and did what was required.
"I felt thoroughly humbled watching the Covid Heroes Awards, seeing so many amazing people who've supported others through these dark days. Dudley CVS and Black Country Radio did such a fantastic job hosting the event.
"My heartfelt thanks go out on behalf of Dudley Council to winners, nominees and all participants. Every one of them was a winner and every one of them was amazing. They should all be proud of their achievements and for making the Dudley borough a very special place."
Keith Horsfall, Chair of Black Country Radio, added:
"Black Country Radio is at the heart of the community and we are incredibly proud to support tonight's event that celebrate community spirit. To be able to be of help to so many people during what has been a difficult time just shows the importance of local radio.
"We are delighted to receive these awards which acknowledges the effort put in by all of our team, but in particular Zyllah and Alex who contributed so much and made such a difference."