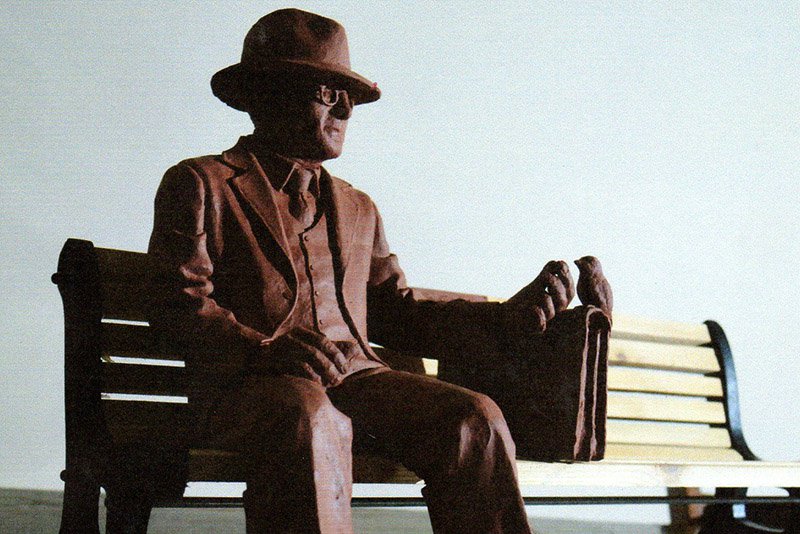 Midlands artist, Andy de Comyn, has started work on the full size statue of Frank Foley after being selected produce the tribute to the spy dubbed the British Schindler.
Major Foley was a British spy working undercover as Passport Control Officer in pre-war Nazi Berlin where he provided thousands of Jews with the documents they needed to escape Germany by bending the rules when stamping passports or issuing visas. He also hid Jews in his own home and even went into Sachsenhausen concentration camp with visas to enable prisoners to leave.
He settled in Stourbridge when he retired and lived at Eveson Road in Norton, close to Mary Stevens Park where the statue will be located, until his death in 1958. Dudley North MP Ian Austin spearheaded the campaign for a permanent tribute, persuading the then Chancellor George Osborne to provide £40,000 to cover the costs.

Mr De Comyn was selected by a panel made up of Stourbridge MP Margot James, representatives of Frank Foley's family, the Holocaust Educational Trust who have supported the project, historian and journalist Michael Smith who wrote "Frank Foley: The Spy Who Saved Ten Thousand Jews" that brought Foley to prominence, local councillors and residents. The project and commission is being organised by Steve Field, Dudley Council's Public Artist.

The model depicts Foley quietly seated on a park bench, just as he might have in Berlin in the 1930s: he is feeding a bird, which symbolises freedom and the people he helped, and a briefcase at his side hints at his MI6 work. The statue will be placed in the beautiful and tranquil Upper Terrace of the Mary Stevens Park Tea Garden, and the statue can be viewed at a distance both through a fine Topiary Arch, and also through one of the pedestrian gates to the main park. Visitors will be able to sit next to Major Foley and reflect on his heroism.

The statue is expected to become part of a Foley Trail that will encompass the fine stone plaque carved by Malcolm Sier in 2004 at the Park entrance that also commemorates Foley, and the Memorial Tree planted by the War Memorial in 2016, as well as his grave in the local cemetery, and Eveson Road where he lived modestly in retirement with his wife. Ian Austin MP said:

"I am absolutely delighted that work has started and that the statue should be ready next Summer so people can learn about him and our country's role in fighting for freedom, democracy and tolerance against Nazi Germany.

"Frank Foley refused to stand by when people were being persecuted because of their race and religion and his heroism helped saved ten thousand people from the Holocaust.

"When other European countries were sending Jews to concentration camps, Britain provided a safe haven for tens of thousands of refugees. I think this period defines what it means to be British – our unique response to the Holocaust and role in the War gives us the right to claim a particular attachment to the values of democracy, equality, freedom, fairness and tolerance."

Margot James MP added:

"I am so pleased that by next summer we will have a statue of Major Frank Foley in Stourbridge, close to where he lived after the Second World War. The statue is a fitting tribute to Major Foley's heroic actions, and I know that people from all around the area will visit and sit with him, to reflect and to learn about his life.
"My thanks go to Ian Austin, who has campaigned tirelessly, and to former Chancellor George Osborne, for agreeing to fund this project"