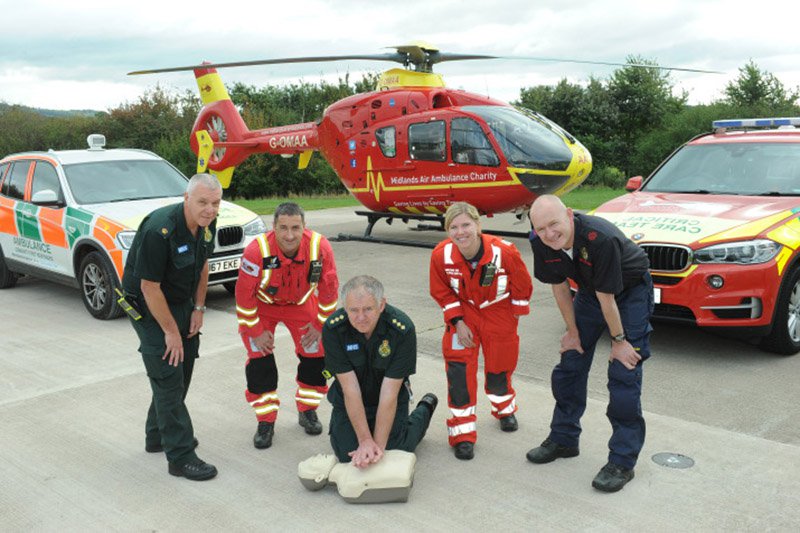 If you were faced with someone who had gone into cardiac arrest, would you know what to do to help? The reality is that every second counts in such situations.
Each year, West Midlands Ambulance Service attends up to 4,000 out of hospital cardiac arrests. On average, Midlands Air Ambulance Charity supports the service at 1,000 of those incidents via its three air ambulance helicopters and recently launched critical care car.
Due to the number of cardiac-related cases the two organisations attend, West Midlands Ambulance Service and Midlands Air Ambulance Charity are joining forces to raise awareness of World Restart A Heart Day (Tuesday 16th October). This year they hope to train more than 30,000 children in a single day at schools right across the West Midlands.
The campaign, run by the British Heart Foundation and Resuscitation Council, aims to train as many children as possible in CPR, so they have the ability to use this lifesaving skill should be need it. The BHF highlights that if a person suffers an out of hospital cardiac arrest in the UK, they have less than a one in ten chance of surviving. Equally, for every minute after the patient's heart has stopped, their chance of survival drops by ten per cent. Ian Roberts, Air Operations Manager for Midlands Air Ambulance Charity, said:
"When dealing with someone who has gone into cardiac arrest, time is of the essence as they're effectively not receiving oxygen to their vital organs, including the brain.
"When we arrive at the scene of a cardiac arrest, those who are likely to survive are the ones who are already receiving CPR, either by a bystander, friend or loved one."
On Restart a Heart Day, staff from from West Midlands Ambulance Service, Midlands Air Ambulance and volunteers from many community first responder groups from across the region will be teaching children the life saving skills which could make a difference to someone's life. Ian Roberts added:
"We have already seen the impact having our Midlands Air Ambulance Charity critical care car can make to a patient in cardiac arrest. With an advanced critical care paramedic on board, the car was launched due to increased demand for advanced medical support in cardiac cases in Birmingham and the Black Country.
"The joint working between WMAS and MAAC is already saving lives, but having an additional 25,000 potential lifesavers can only help make a lifesaving difference."
For more information on West Midlands Ambulance Service, visit wmas.nhs.uk and for further detail on Midlands Air Ambulance Charity, visit midlandsairambulance.com.