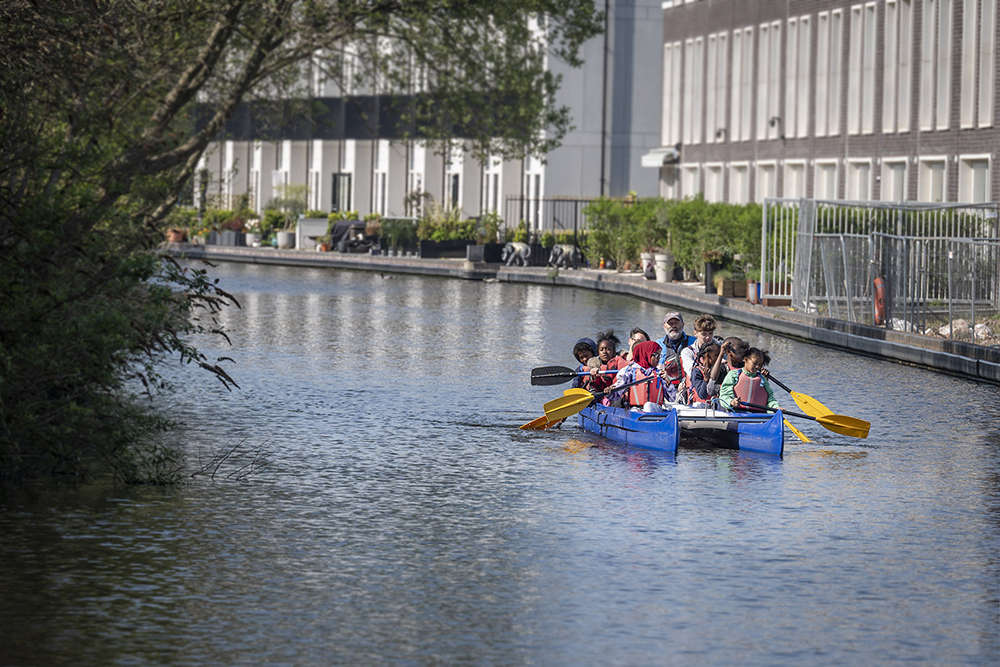 Bellboating in Ladywood ©Canal & River Trust / Katja Ogrin
Saturday 9th July will see the first ever Canal & River Trust Community Games taking place in Smethwick and Birmingham.
This exciting event in partnership between Inspire Activity and the Canal & River Trust is part of a project with Birmingham City Council and Sport Birmingham to deliver Community Games events.

These events aim to bring local sports providers, organisations and businesses together with the community. Allowing the public to try new activities in a friendly environment and giving them an opportunity to find out what is on offer in their local area. The event will inspire health and happiness through physical and cultural activity in a relaxed, fun and friendly environment. Encouraging visitors to discover or refresh their enjoyment of using the waterways available to them.

The Canal & River Trust Community Games will see sporting activities positioned in two separate hubs: one at Pope Bridge in Smethwick and the other alongside the canal by the Sea Life Centre in central Birmingham.

The hubs are linked by a beautiful three mile stretch of canal that the public can enjoy as they travel between the two activity hubs.

This free event will give the public the opportunity to participate in interactive taster sessions from multiple providers across the two hubs and will even give them opportunities to get on the water of the canal itself. Dennis Kennedy is the founder of the Community Games. He said:
"We are thrilled to be collaborating with the Canal & River Trust to deliver the Canal & River Trust Community Games.

"It's an exciting prospect to be bringing the Community Games along the water in this first Community Games event of its kind. It promises to be an inspiring day for all involved."
Ian Lane, head of strategic projects for the West Midlands and the Trust's lead for the Commonwealth Games added: "The Commonwealth Games give us a unique opportunity to really showcase our wonderful green and blue waterways and highlight the value and benefits we bring.
"Our Partners, Inspire Activity, have a wealth of experience in running these events across the region, but the first within the canal environment. As such we are really excited to host the first ever Canal & River Trust Community Games in Smethwick and in Birmingham.
"This will give communities and visitors the opportunity to take part in activities on our canals, from kayaking, walking to activities including rowing (land based), wind surfing (land based), archery, cricket, hockey, judo, tennis and orienteering, walking and running. It's a great way to experience and explore our historic canal network in the three miles from Smethwick to Birmingham
"For some time we have worked with partners and communities to really improve our canals – and the challenge now is to build a sustainable legacy of future use, really helping to improve the wellbeing of those that enjoy it.
"We know life is better by water and that our canals pass through areas that have limited access to open spaces so opportunities to run events like this are fantastic in helping raise awareness. We can't wait to welcome you along."
To book tickets for this free event visit community-games.uk.