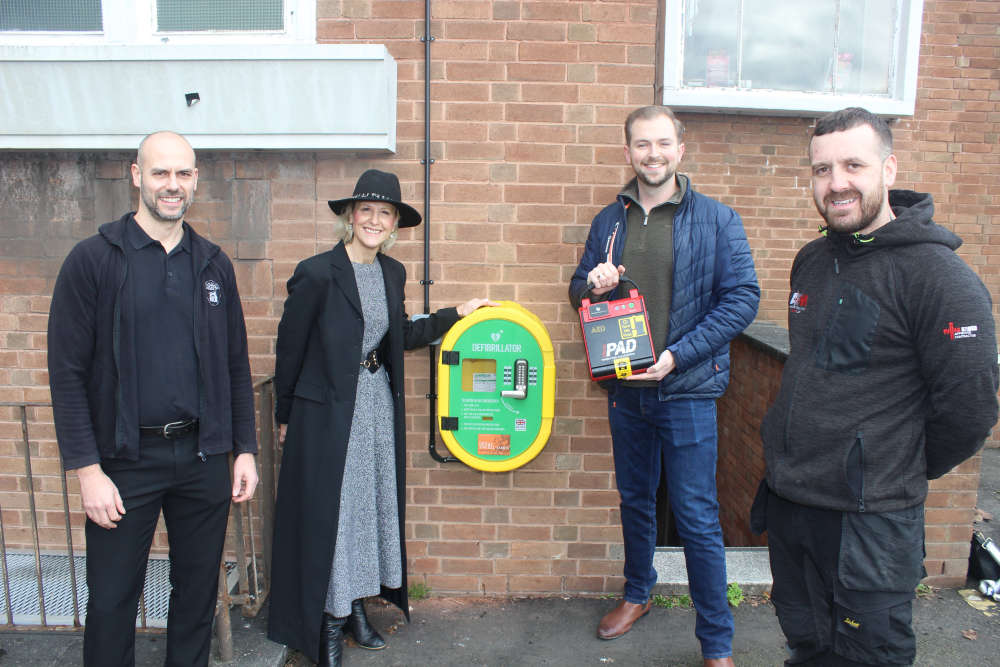 Thanks to a generous donation from the Henry Angell-James Memorial Trust, Brierley Hill town centre now has its first publicly accessible AED.
The application to the Trust , a charity which aims to help install as many defibrillators as possible across the West Midlands was spurred by events last summer which saw Gordon Tranter, a local butcher, and Olivia Hanson, a local student nurse, save a life in the town by delivering CPR to a shopper who suffered a cardiac arrest.
Inspired by the pairs' heroic efforts, Brierley Hill Councillor Adam Davies joined forces with Andy Jeynes from West Midlands Ambulance Service to raise awareness of the issue – hoping to help more local people to feel comfortable with stepping up and potentially saving a life.
A free CPR training session was held at Brierley Hill Civic Hall and talks soon turned to securing a defibrillator for the town with bosses putting the venue forward as a potential home for the device.
The Henry Angell-James Memorial Trust was set up to provide AEDs into deserving communities within the West Midlands and beyond. Henry suffered a fatal cardiac arrest in 2017 at the age of 54. Born and bred in the Midlands he was a great believer in supporting small local charities with a simple objective and that is why the Trust was set up. Chair of the trust, and Henry's wife, Sally Angell-James said:
"Brierley Hill Civic is a community centre in the heart of Brierley Hill bringing the arts and more to the area. My husband loved the theatre, and this seems like a very fitting place to put one of the charity AEDs as he would have enjoyed everything it has to offer."
The defibrillator is located in a cabinet just around the corner to the left of Civic Hall entrance, facing the police station entrance. Cllr Adam Davies, representative for Brierley Hill, added:
"I want to give such a big thank you to Sally and the Henry Angell-James Memorial Trust for so generously donating this life-saving piece of equipment to our town.
"We know that a Cardiac Arrest can happen anytime to anyone and anywhere – that's why having defibrillators as widely accessible as possible is so important.
"Thank you also to James at Brierley Hill Civic for putting the Civic forward as the home for our town's first publicly accessible defibrillator. And to local electrician Aaron Perks from Approved Electrical Midlands for wiring and fitting the cabinet completely free of charge."
The equipment is registered to the National defibrillator network known as 'The Circuit', meaning any member of the public calling 999 to report a cardiac arrest can be directed straight to the AED which can be used by anyone - with or without training.