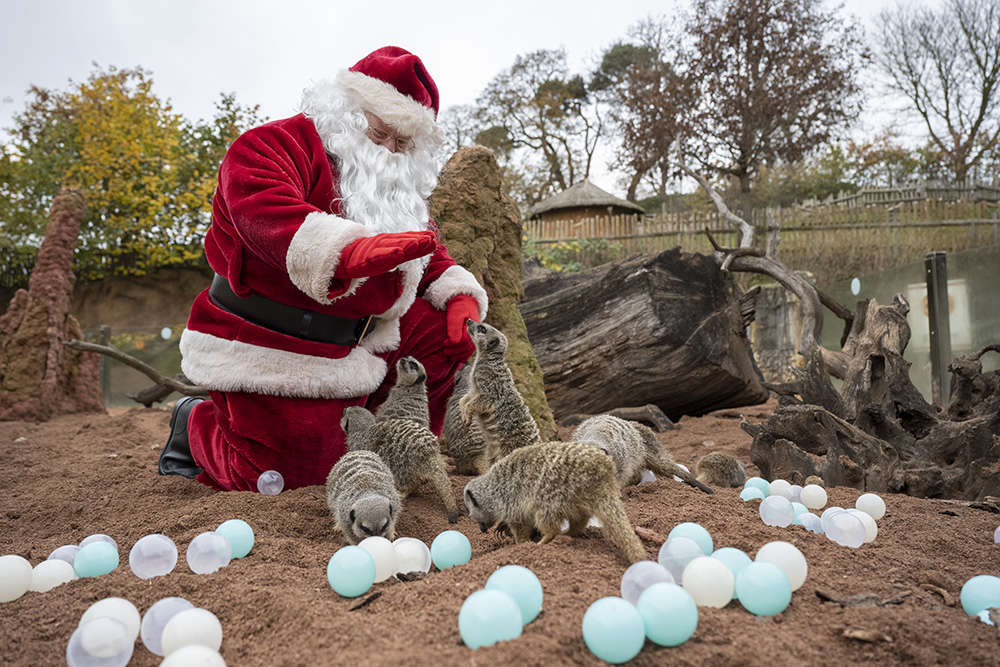 Santa has arrived at West Midland Safari Park, ready for their annual Christmas event and in preparation, has been meeting some of the residents.
From 26 November and running daily until Christmas Eve, Santa Safari will see the Park's Discovery Trail transformed with over 350 Christmas trees, festive decorations, dazzling fairy lights and even layers upon layers of 'snow'.

As Santa will be calling the tourist attraction his home for the next month, he paid a visit to some of his neighbours, including the Park's mob of mischievous meerkats and took along a gift from their Christmas list – a ball pit! Lisa Watkins, Head of African Village, said:
"Our meerkats were really excited to receive an early Christmas present from Santa, when he popped down to the African Village with a ball pit for them. Santa must have done his research before picking the perfect present, as the keepers provide the meerkats with novel items as part of their daily routine, to keep them stimulated and active.

"The ball pit proved a big hit and Santa had even hidden some tasty mealworms amongst the balls, which encouraged natural foraging behaviours. I'm sure this will occupy the meerkats throughout the year and not just for Christmas."

Santa has come to the Park accompanied by his team of friendly elves, who will be ready to greet guests, gift presents and spread some festive cheer, as well as magically transport families to the North Pole on Santa's sleigh.

Once guests reach the North Pole, they will follow a path through the newly refurbished winter wonderland and elf workshop, before reaching the grotto, to pay a visit to the big man himself.

Children will receive a memento of their day by having a picture taken of themselves with Santa which they can then take home, alongside being able to choose their very own present from the elves' workshop. Also included in the package is a visit to Mrs Claus' Kitchen, where children can enjoy a drink and cookie, whilst adults are treated to a hot drink and mince pie.

There is also the chance for guests to win a Family Annual Pass, either by entering the 'Letters to Santa' competition, where children can write a letter to Santa and post it in his magical talking post box, or by taking an "elfie" with one of Santa's elves.

Additionally, guests visiting this winter can experience a Virtual Reality Santa Sleigh Ride – a magical 4D adventure to the North Pole. Families can help Santa test out his sleigh before his big journey on Christmas Eve. Led by Santa's helper, D.A.S.H, families will be transported across the globe and through a wintery wonderland, but as it's a test run, it could be a bumpy ride!

Santa Safari runs from 26 November to 24 December and is £28.50 for adults, £24.50 for children aged 3-15, £13.00 for children under the age of three and £26.50 for concessions. The VR Sleigh ride can be added on for £4.00 per person at the time of booking.

Admission includes a Free Return Code to visit again in six months, only when booking online in advance, without a Tesco or ASDA voucher. Guests can also receive discounts for selected dates, when booking online at least two days in advance. The Adventure Theme Park is not open during the winter season.

Further information about West Midland Safari Park is available from the Park's website at wmsp.co.uk.