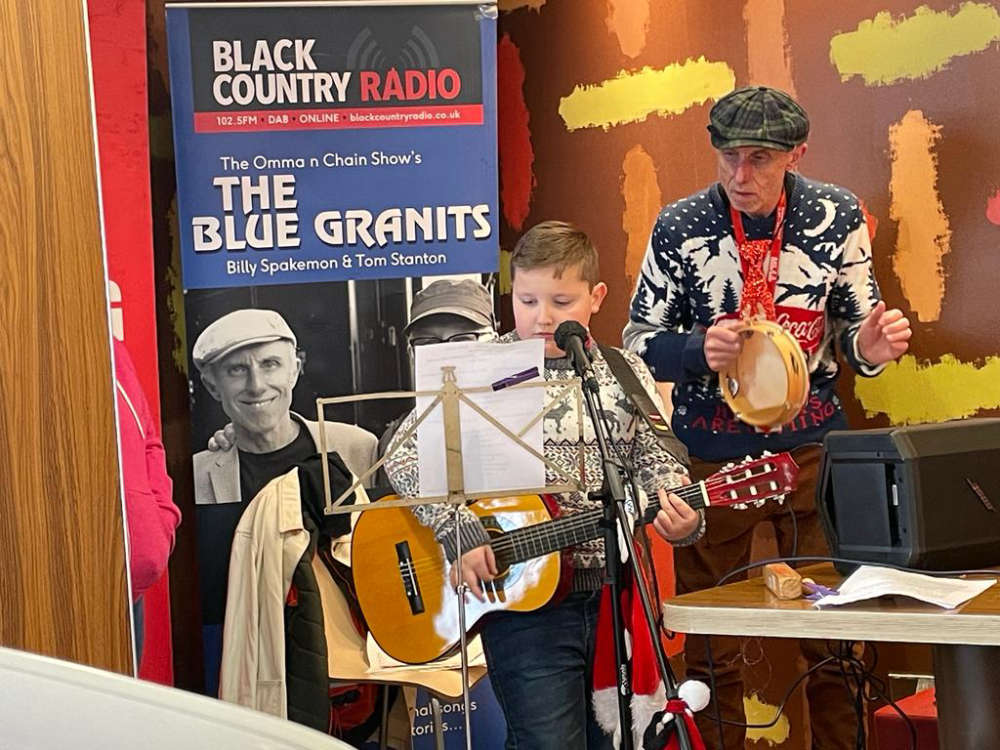 Billy and Zak busking for charity in Dudley.
Local residents Billy Spakemon and Tom Stanton, also known as the Blue Granits, have raised £11,231 for Russell's Hall Hospital, during an incredible year of busking.
The duo, have played tirelessly over the last 12 months, raising vital funds through 'Buskin For Charity' - their annual mission to raise funds for vital support at Russell's Hall Hospital.
The duo can be seen on a regular basis buskin around the region, including every week in Halesowen Town Centre - where they even have their own community bench.
Their final fundraiser in Dudley saw them perform at the 'Gather' cafe and McDonald's, raising an additional £333. On this occasion, Billy and Tom took along two youngsters, Zak and Lily, who do a radio show on Black Country Xtra on Sunday mornings. Billy said:
"We managed to raise just over £333 all together on the day which gave us a total for the year of £11,231. The next step is to discuss with the hospital how it can best be spent - and also to decide which wards we'll support in 2022.
"We'd like to thank everyone at Black Country Radio and Black Country Xtra for all their support, alongside everyone out there that has given up time to play with us or support us. A special thanks go to the folk in Halesowen who, week in week out, have dug deep.
"Out thoughts go out to everyone who's lost loved ones during the last 12 months. They come to see us for some light relief and we've made some great friends. Happy New Year and we'll see you in 2022."