When the three orphaned Rawlins children are reluctantly evacuated from wartime London to live with the mysterious Eglantine Price, they have no idea what adventures lie ahead.
Upon discovering Eglantine to be a trainee witch, they join forces to search for a secret spell that will defeat the enemy once and for all. Armed with an enchanted bedknob, a bewitched broomstick and a magical flying bed, they encounter surprising new friendships on their journey from Portobello Road to the depths of the beautiful briny sea.
Bedknobs and Broomsticks was the childhood film of a generation. Starring Angela Lansbury and David Tomlinson, it was nominated for no less than five Oscars, winning one for its visual effects. Now, the big screen smash-hit has been converted into a stage musical which, frankly, has a lot to live up to.
With a set of original songs by the legendary Sherman Brothers, including Portobello Road, The Age Of Not Believing and The Beautiful Briny, the production is already off to a good start...but I don't think anyone in the audience was prepared for seventy-five minutes of pure genius on The Alexandra's stage this evening.
Bedknobs is possibly one of the most magical, inspirational and beautiful productions I think I've ever seen. From the moment you walk in, you realise you're about to witness something special and, from the first chord of the overture to the last note of the finale, the audience were transfixed.
A huge round of applause should be directed towards the creative team who have done an exceptional job putting this show together. From lighting to sound and production to direction, they should all give themselves a huge pat on the back. The atmosphere and the scale and quality of the illusions was second to none.
However, what made it for me was the performers on stage. Charles Brunton was centre of attention as Emilius Browne, the failed magician who brings flair to proceedings and who, alongside Conor O'Hara as Charlie, provides a stong support system for our leading lady.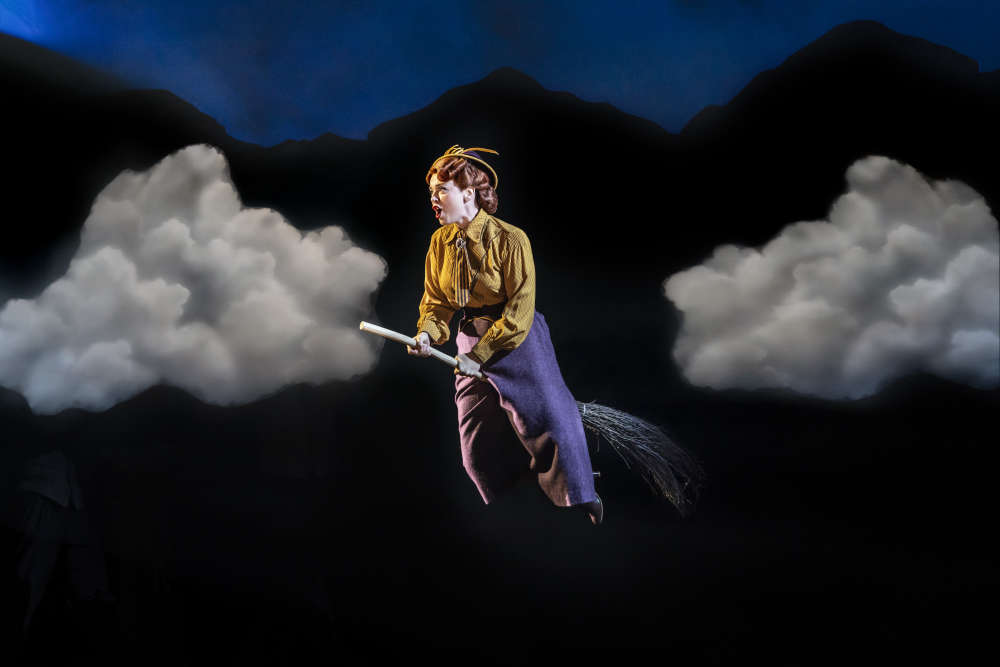 Talking of which, special mention has to go to Dianne Pilkington who had the unenviable task of playing Eglantine Price this evening. I say unenviable for two reasons - firstly because Angela Lansbury's performance as Price will go down in Disney history as one of the most iconic of all time. However what was beautiful was that neither Pilkington, nor any of the other cast in their respective roles, tried to emulate those who went before them. Rather they formed their own take on the character that was both recognisable but also not a caricature.
The second unenviable string to that bow is the sheer amount of choreography involved. This show is very much about being in the right place at the right time, with some exquisite movement of set pieces and props which embellish scene changes almost as a dance routine. I have yet to find a production with those big scale hydraulics that hides them as well as Bedknobs does; I can only assume that the broom and the bed were both supported by magic only!
Pilkington was an inspired piece of casting - as were Rob Madge, Mark Andrews, Matthew Elliott-Campbell and Emma Thornett who all made puppetry whilst performing look so easy!
Bedknobs and Broomsticks is, quite simply an immersive, theatrical masterpiece. From start to finish, you're invested in the story and its outcome. Whether you've seen the film a million times, or you've never watched it makes no odds. As a stand alone piece of work, it's arguably the best I've seen in a long time.
Bedknobs and Broomsticks plays at The Alexandra until Sunday 14th November 2021. For more information, or to get your tickets, head to atgtickets.com/birmingham.